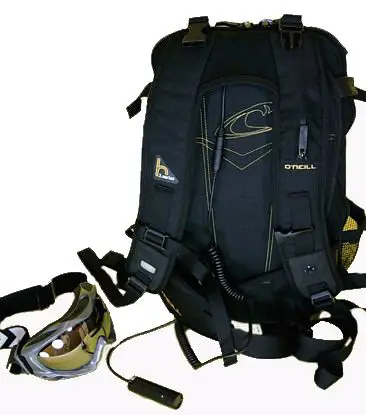 O'Neill launched their next generation Backpack called the H3 Campack which promises to revolutionize the way you film your friends on the mountain, as well as your own riding exploits.
The Backpack contains a protective camera pocket and hi-definition external lens, that allows the rider to capture all the action without having to remove the camera from the backpack. Easily attached to the rider's google strap or helmet, the innovative camera lens offers unparalleled follow-cam filming possibilities.
The DV Cam inside is safely stored in the back pack and connected to the Micro Lens. The camera can then be controlled via the control pad on the backpack straps. The micro lens can be attached to your snowboarding goggles (or anywhere really) so that you can film hands free.
The H3 Campack also features a built-in Bluetooth module for effortless hands-free calling and has a integrated iPod control functionality.
The H3 already ships in Europe but the listed stores have the sold out flag up. Not sure when it can be ordered and where.
In any case, the H3 Campack will cost 415.-$ (if available).