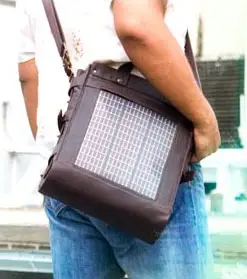 We marked this day in our calendar and look forward to see what Marianne Fairbanks and Jane Palmer, the founders of Noon Solar, have build up over the last few month since we posted about Noon Solar.
What makes Noon Solar different to most other companies is the throughly ecological pureness that both ladies have as their leading motivation to create a range of solar bags.
Besides the solar panels, which are laminated onto fabric and sewn into the bags, Noon Solar uses only biodegradable materials like leather tanned with vegetable-based substances rather than heavy metals that cause pollution, and natural-dyed fabrics, all stitched together by a Costa Rican factory that abides by fair labor practices.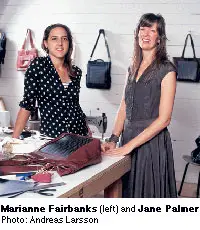 There are various companies worldwide who make solar-powered bags, but Marianne Fairbanks and Jane Palmer believe their level of environmental and humanitarian commitment sets them apart from the competition.
Noon Solar had their first product on the market last fall by offering 50 satchel-style bags designed for men or women. They where sold primarily at two high-end boutiques in Chicago. The bags, which came in four shades of leather retailed for $400 to $700 and sold out quickly.
After the initial success, the team spent the next twelve month to design their second collection for fall 2007 — six shoulder and messenger bags in a variety of colors of leather and fabric.
But Marianne Fairbanks and Jane Palmer have already started thinking about the 2008 bag collection where they want to add magnets that allow people to buy a couple of bags and move the solar panel from one to another – an excellent idea to reuse the solar panel on different bags.
According an article by Crain Communications Inc., the founders of Noon Solar would love to see copycat, eco-friendly solar designers emerging that fit more people's price range.
"Noon Solar wants to start the trend," Ms. Fairbanks says. "We want to make it exciting so it can trickle down and become the thing that's sold at Target for $20."