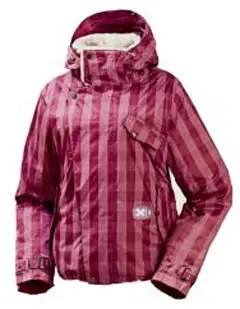 Apparel for the cold season have been the first clothing items that adopted electronic functions. This is for one part kind of logical because the integration is easier due to the cut of jackets that allows easier integration as compared with thinner summer clothing.
Another factor for using winter clothing to add electronic functionality is the fact that especially in cold weather, taking out the iPod from the warm pocket and change volume or song is kind of cumbersome if you have gloves on your hands.
The Audex iPod Dutchess Insulated Jacket for Women is another example from Burton on how to keep the fingers warm while swinging down the hills or enjoying the clear and crisp winter air.
Made off DWR Coated Fabric with features like Microfleece-Lined Handwarmer Pockets, Waist Gaiter, Sound Pocket with Headphone Cable Port, Storm-lite Fabric, fully Taped Seams and Thermacore Insulation, the Audex iPod Dutchess Insulated Jacket makes sure you stay warm even in the coldest conditions.
Burton's Audex iPod Control System with Removable Radio Frequency Remote is compatible with Generation 3 or newer iPod with Dock Connector which let's you change volume and songs without exposing your fingers or iPod to the cold elements.
The Dutchess is the ultimate on-snow DJ with style, Burton's high quality and aesthetic pleasant design ensures a good fit of this Jackets without the often seen 'Michelin look'.
Available in Lust Gingham (photo above) and True Black Gingham, the Dutchess can be ordered directly by Burton for $ 279.95