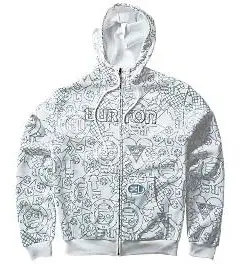 Burton's Fall/Winter Wearable Electronic collection is extensive and available now. The first model we picked is in line with the cooler times coming up, the Audex iPod Bonded Fleece Jacket.
Flip up the hood and ignore the outside world. Wherever you go, you can control your iPod on the pocket's wireless, removable pad, and rock out without having to take out you iPod for simple volume adjustment or skipping a song.
Slip your hands into the front kangaroo pockets and concentrate on your tunes. The Audex iPod hoody's long-fiber fleece keeps you warm when you're lost in la-la land.
Burton chooses not to integrate fully the remote control buttons into the fabric of the jackets but uses a small plastic keypad that can be detached.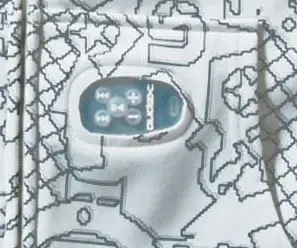 As I pointed out earlier, I am not completely sure what I could control over distance on my iPod if I am away from the jacket but maybe I miss there something.
Nevertheless, the integrated connection system in the Audex jackets allow to hook up the iPod and headphones before hitting the cold outdoors and makes the iPod navigation more convenient compared to having to take out the iPod every time to changing a basic function.
All iPod's from generation 3 onwards will work fine with the Audex system. A word of clarification on the wireless control: I have seen in user feedbacks about the Audex Jackets that some people assume the wireless link is based on Bluetooth technology. This is not the case, the wireless link Burton is using is their own wireless system and not Bluetooth.
Not using Bluetooth should be no problem, the Audex system in the jackets give the wireless function to the connected iPod, but again, a bit beyond me why wireless is used.
The Audex iPod Bonded Fleece Jacket is available in (from left to right) Rock Salt 3D Print, True Black 3D Print, Roasted Brown, True Black and Acid for $ 149.95 by Burton directly.