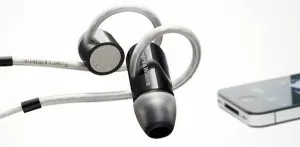 Headphones. Headphones. Headphones. Always something new in that world, right? Check. Bowers & Wilkins are bringing their considerable power to fray with their C5 luxury headphones. Just look at these things!
These noise-isolating in-ear headphones are the perfect mobile companion. They are small, sleek and get the job done. They are iDevice compatible and feature an inline remote / mic so you can receive phone calls while listening. This also works great for switching through your playlist on the fly. They also securely fit on your ears so you won't lose the gosh darned things. Been there.
These may be cheaper than older models by the company, but they are still $180. That is nothing to sneeze at for a pair of what are, essentially, earbuds. Still, if the shoe fits and it sounds good. They are available now.