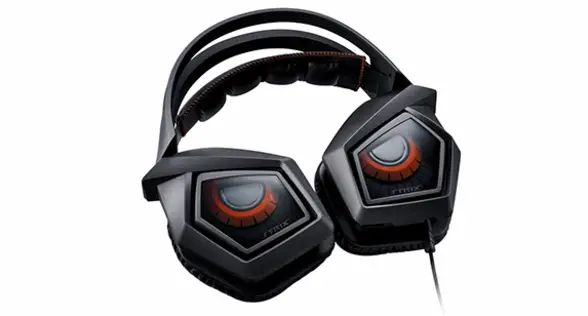 The world of gaming headphones is significantly different from their cousins over in music land. For one, they almost always contain a pull-down microphone of some sort so you can yell obscenities at that 11 year old in Oklahoma or wherever. Also, they tend to have knobs that allow you to alter the volumes of conversations from said 11 year old and in-game content. In other words, they are made, first and foremost, to make gaming a more pleasurable experience. Plus, you won't wake up your roommates if you've taken to blowing up aliens at three in the morning. Wear headphones when you do that so late. It's only proper roommate etiquette.
ASUS, who are better known from making just about everything ever, are stepping into the gaming headphone arena in a big way with their forthcoming Strix Pro headphones. Upon first blush, you can't help but notice the angry owl eyes painted on each can, which happen to be orange, glowing and, did we mention, particularly angry. These cans are not just about pissed off owls, though. They also bring some proper functionality to the table, including 60mm neodymium-magnet drivers in each side, complete with a standalone noise cancellation device. Also the microphone is detachable if you like gaming without being able to yell at 11 year olds, which is just crazy talk.
These should start showing up in store shelves sometime in July, at the very fair retail price of around $100, which is just about the cost of three or four owls on the black market. Not that I'd know such a thing.