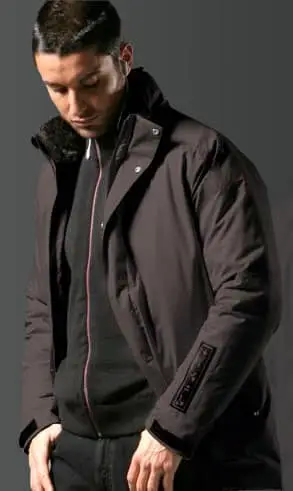 Zegna added a third model to their 2007/08 Wearable Electronic collection, the Bluetooth iJacket.
A multi-functional jacket that keeps you in constant touch with your cellphone, even when listening to music and allows you to control both, the phone and the iPod thanks to the Eleksen controls on the sleeve.
The integration of the controls is as sophisticated as you would expect from a Zegna product. The control symbols are embossed on a leather panel that is seamless integrated into the BT iJacket's special micro-nylon fabric.
While you are listening to your iPod with headphones, you can control your iPod by adjusting the volume, skip to previous or next song or switch on/off or pause your iPod.
Upon receiving a phone call, the volume of the music automatically decreases and the control panel on the sleeve changes the functionality to cellphone mode to accept and end a call.
As soon as you end a call, the music will come back and the keypad will switch to iPod functionality again. Cool.
The BT iJacket is completely waterproof thanks to the thermally taped seams. The smooth exterior of the BT iJacket has a natural, pleasant to the touch feel. The jacket does not require any special washing procedures, just don't forget to take out your iPod and cellphone before washing.
A great looking jacket that makes me wanting winter time starts soon ….. just kidding, I like the hot and sunny summer time. But it is good to know that Wearable Electronic is looking very good in the coming, unavoidable winter season.
We couldn't find any price indication or availability on Zegna's online shop yet. We will keep watching out and post about the market availability as soon as we get word of it.