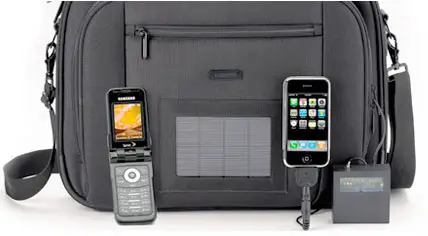 V-Dimension, a California based company joined the fast growing segment of solar power bags by introducing a revolutionary new line of bags.Their patent bending system can charge any cell phone, iPod/iPhone or PDA using sunlight and even works with room light thanks to the use of a new anti-reflective coated mono crystalline silicon solar panel which measures just 4.25inch x 5 inch.
The V-Dimension line includes also a switch-box that contains a buffer battery to store the (sun)light / power as it comes in. Three LEDs on the switch-box indicate when the stored energy is high enough to charge your device.
A large range of different connectors are on offer to connect and charge practically any mobile device on the market. A selection for the most common connectors are included in the bag and the more exotic connectors can be ordered for $ 1.99 each on V-Dimension's online store.
Combining high quality bags with an innovative and highly efficient solar technology, the V-Dimension bags set a new standard for solar bags.
Nowadays where headphones are part of many peoples body, listening either to music from their iPod or talking on the cellphone, have their Blackberries or smart-phones fused to their hands (at least it looks like this), new ways of generating and providing power for all those devices is asking for new dimensions of power management.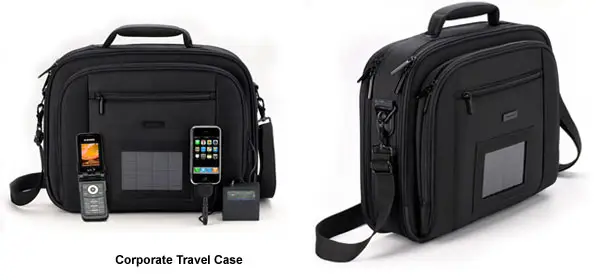 The Corporate Travel Case is the ideal companion for the business person while the Optical Messenger bag fits perfectly for the out and about city reveler. For the trip to the country side, the Helius Backpack might just give you the large capacity to carry everything for a short trip away from your home territory.

All three models are available by V-Dimension for a very reasonable price of $ 129.95 each. V-Dimension is shipping internationally.
Solar cell technology integrated into 'every day items' like clothing and bags to harvest light and convert to electrical energy can be a very interesting direction to follow.
V-Dimension's ground breaking new line of light to power transforming bags has the potential to revolutionize the bag business.