Ever wanted to have your own theme music.  Remember that episode of Family Guy?  Well ThinkGeek has made your wish come true.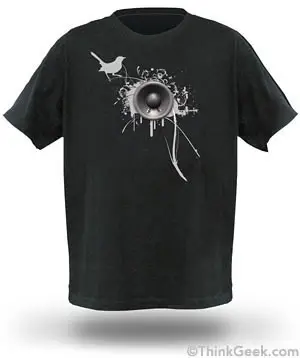 ThinkGeek, famous for funky techno enabled T-Shirts offers the Personal Soundtrack T-Shirt with an build in speaker right in front of your chest. The shirt's music system has a long list of pre-recorded sound tracks which will cover almost any live situation you get into. With a push of a button you can spice up your life with the right soundtrack like: Entrance Theme, Chase Theme, Romantic Theme, Sexy Time Theme, Victory Theme and many more.
An equal long list of sound effects covers: Cheering, Booing, Crying, Gunshots, Police Siren and more.
The remote allows the selection of 13 music themes and 11 sound effects. Music and sound effects fade up and down when choosing a new sound for a seamless life experience. The T-shirt's sound system requires 4 AA batteries.
Maybe not a complete replacement for your iPod but interesting enough to have a closer look. Yeah, it's April 1. So check out if this is for real by clicking over to ThinkGeeks online store and order one for just $39.99