Sunload has released a few new solar bags. The German based company is already known for its practical solar bag solutions.  Adding to their already diverse offerings and colors, are bunch of new models.

On top of Sunload's solar energy, the bags are made of recycled materials.  Sunload also sells DIY solar kits to make your own solar equipt items.  Panels go for $146.10 and the whole kits containing charger, cables, connectors, and the panel run an even $500.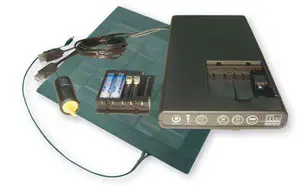 The kit is controlled via a keypad and display. Outputs include 5v USB and 12v car adapter.  Kits are simple to use for a novice.
The regular bags by Sunload range from $709 to $1917.