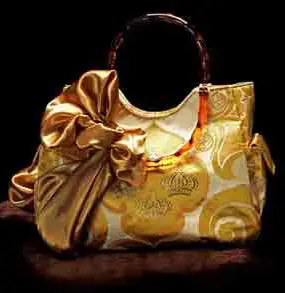 You had a great night out but its time to go home. You found your car and you are on the hunt for your car key in your purse, guided by the senses of your finger tips because the light is too low to really see anything inside your bag. You keep on digging but the only things you find is all the other stuff in your bag, just the keys seems to hide somewhere.
You wished there would be some easier way to find the things in your purse when you are in a dark place like this. Sounds familiar to you? You are not alone with such experience.
Fortunately for us ladies, a smart designer asked herself the same question. Her name is Sade Popoola and she worked out a solution to this problem by blending cutting edge technology with Nigerian inspired fabrics, added a good part of design and created a functional and fashionable handbag for the fashionistas with the desire of practical fashion.
Sade Popoola is based in London and started a company called Quute Ltd to produce and market bags she designs with women's safety, convenience and fashion desire in mind.
With her patent pending technology, Popoola created a line of handbags with lights that turn only on when you open the bag saving so battery power when closed. This idea is not completely new but the way Sade integrated the technology into high class designs with the use of unique materials for the bags is the perfect blend of fashion and technology.

Not many details on the technology involved is available only that much that actual lights are used rather than electro-illuminescent lights. These lights sip on battery power and will last longer than EL (Electro-illuminescent) light sources.
Nevertheless, an innovative solution enabling women everywhere to see into the deepest, darkest corner of their handbags.
I may add my own idea to use solar panels to catch light during the day and store it to light up your purse during the night. Catch the sun and let it shine in your bag when you need it. Could be an idea for our next DIY project – right?!?
If you are interested into owning one of Sade Popoola's bags, you could place orders by e-mail to [email protected] but she planes to have them in some stores in the US sometime soon.