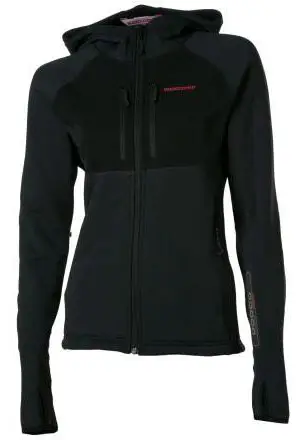 Good news for the cooler days. Westcomb's iRebel iPod Compatible Fleece Jacket will keep you warm with a very cool look.
Plug your iPod into the media pocket, select your tunes using soft buttons built into the sleeve. Stay warm as you charge out into the world with this wind- and water-resistant hoody.
The iRebel Fleece Jacket's comfy, relaxed fit and four-way stretch fabric allows you plenty of mobility whether you're floating through fresh powder on the ski hill, or trying to get across campus with an armful of books.
Built with Polartec'sWindPro fabric, the iRebel Hoody keeps you dry through snow-flurry mornings and windy afternoons.
Eleksen's technology gives control over your iPod and the tunes you need to keep moving, anywhere and everywhere. This means you do not have to take out and put back your iPod just for changing a song or the volume. This is the trend to come – err … actually it is here already. iPod compatible apparel is the must have item for the autumn/winter season 2007/08. This is not future talk – its here and now.
The iRebel is available now, for $ 234.95 for the Women's model and $ 164.46 for the Men's model as seen on Backcountry.com
Here we have it again, no equal opportunity in fashion. Nevertheless, stay wired and warm all day thanks to Eleksen's Soft Switch Technology and the wind-proof fabrics of Westcomb's iRebel iPod Compatible Fleece Jacket. This is one of the coolest hoodies I have seen for a long time.