The ILLUM cycling jacket is the brain child of Goose Design and PDD, a creative design and product design agency respectively.  This is the coolest concept cycling jacket that we have seen to date.  Not only is it sharp but it uses tech clothing to bring style and safety to cycling.
The ILLUM jacket is a photovoltaic, aka solar powered, garment that uses electroluminescent ink to provide safety and sharp looks for today's cutting edge cyclist.  The design spans 360 degrees around the upper body of the cyclist and uses red lights to illuminate the back of the jacket while using white light to illuminate the front.   These elements are sewn into ergo designed panels in the jacket.  Also incorporated into the design are the solar charging elements located in the upper back and shoulder area.  This charges a thin film battery and is controllable via fabric switches in the sleeve.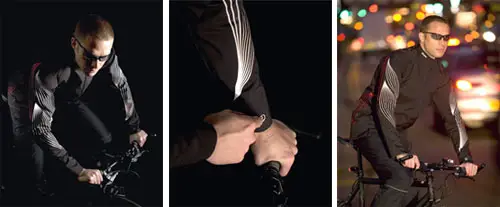 This fusion of style, practicality and usability is a genre that we would love to see take off.  This is sweet jacket that any cyclist would love to own.