Virtual reality has come a long way from the 1990s concept designs. The tech today is capable, but it's uncertain how a consumer market will react. The Oculus Rift, a VR headset, looks to test those open waters by giving software developers the hardware to experiment and see if virtual reality is still ahead of its time or if its finally arrived.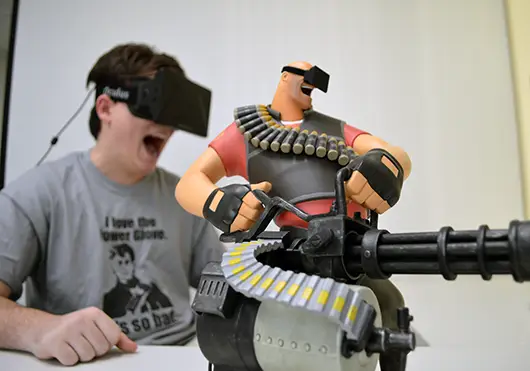 Valve recently announced its support of the Oculus Rift a few weeks ago, releasing a "VR Mode" for its popular online multiplayer game Team Fortress 2. This version of the video game may help set the bar for other developers for how games should feel playing on the device. But most importantly, Valve is sitting back to see how the gaming community will react.
"When we first played an early version of Virtual Reality mode in Team Fortress we were blown away by the immersion we experienced," said Joe Ludwig at Valve. "VR is just getting started, but it is going to have a big impact on gaming. This update will let us share that experience with more of the Team Fortress community."
Valve's support has garnered much buzz across the tech community, but people want to know how it really feels. Well, Tested recently went hands on with the Oculus Rift unit it received from the Kickstarter it funded back in September 2012. The site released a 44 minute video, with plenty of commentary, playing Team Fortress 2 on the Rift. Granted, the video provided isn't the same as trying one out yourself, but you'll certainly get an idea of how this device measures up. If you want to dive right into the gameplay, skip ahead to the 5 minute mark.
Source: Ubergizmo