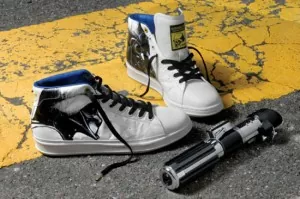 You are a geek. This means, unless the prequel trilogy ruined it for you, you love Star Wars. This love is about to get exploited even further, thanks to Adidas and their new line of Star Wars-themed clothing items.
Being the company is Adidas, most of the clothing items are shoes. There are several designs available and, frankly, they are pretty cool. Also pretty cool? Jar Jar Binks doesn't make one single appearance on any of them. They are officially safe to wear, meesa thinkso.
Shoes aren't the only thing on the company's galactic agenda, though. The company is planning a full line of related coats and jackets as well. The flight jacket is already available for around $130.