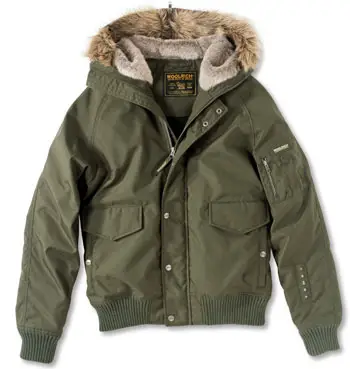 Woolrich, a brand famous for the Parka jacket, has incorporated Fibretronic's iPod keypad controller into the sleeve of their 'I-Military' Jacket which is part of Woolrich's Fall/Winter 2007/08 season.The origins of Woolrich goes back to 1830s, when John Rich opened his first woolmill in Plum Run, Pennsylvania. 15 years later, he moved to the town that's now called Woolrich.
In 1890, following the first simple but practical woolen articles (sold mainly to workers and woodsman), Woolrich offered a complete line of shirts, jackets, hats and pants each with special features: for railwayman a watch pocket; for workers, large pockets for tools…
Fast forward into the 21st century, Woolrich offers now up-to-date features for their signature Parka jacket: iPod controls. That's what I call tradition and staying to the core values.
The iMilitary Parka looks fabulous like an original Parka should look like. A great Christmas gift for all the boys around.
Interestingly – or disappointingly – we could not find the jacket on Woolrich's US site or any US online shop. What we did find is an Italian online shop that offers the iMilitary Parka for € 410.00 ($ 589.85) and they ship to most European countries but not US.
Maybe Woolrich US will read our blog and can offer this great looking iPod Parka in the New World as well. After all – it's Christmas time