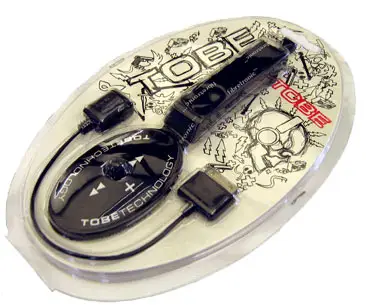 Fibretronic's Fiddler joystick system known from the Levi's Redwire Jeans enables you to upgrade your outfit to work with your iPod.
The joystick module comes together with the iPod interface electronics in a blister pack. It allows for easy attachment and removal of the iPod controller to any clothing.
The first company to implement this product and create a clothing line is ToBe Technology, a Swedish manufacturer of hip snow sportswear.
ToBe's iPod enabled Jackets are designed for easy integration of Fibretronic's iPod control module giving their customers the flexibility to interchange the control system between different garments in ToBe's product range.
The module itself has on its base Velcro which allows the attachment on any type of garment or soft good like bags where there is a patch of Velcro and provisions to guide the textile cable to the inside of the garment or bag where the control electronic box and the iPod connector is placed.
We found the module itself on ToBe's online store for $ 75.- a bit on the high side for an iPod controller but there might be hope that this module becomes available by other retailers for a lower price – if we may send this wish towards Fibretronic.
The Fibretronic Fiddler Joystick System is a fabulous concept that might motivate people to consider adding the iPod functionality to their outfit.