Sunload is ready to kick off spring with their new line of bags. First up is the SolarRuckSack. This versatile bag comes in two sizes, large and small. To add the the choices there are many colors to choose from: black, brown, red, orange, royal blue, navy, silver or tricolor and some more on request. This bag has onboard battery and can handle 12v car or USB power.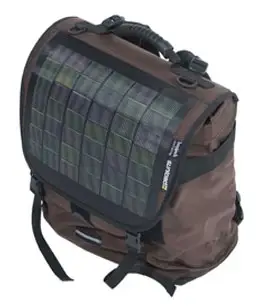 The solar charging electronic Sunload uses is one of the best i have seen in the market. Controlled via a keypad with illuminated load status display, the internal lithium-ion battery has a power rating of (70Wh) and a capacity of 4.500mAh. This capacity allows many charges for an iPod, iPhone, Blackberry and similar portable devices.
The large solar panel delivers ~6W, a voltage of ~16,7V and current of ~360mAh when the sun hits it head on. All in all, a real power house bag.
The Ruck Sack is a whooping $942.97. Ouch.
Next up is the Sunload SolarShopper. This practical bag is available in: traffic white, light ivory, zinc yellow, signal yellow, pure orange, traffic red, carmine red, yellow green, moss green, sky blue, cobalt blue, silver, grey, jet black. This handy tote will run you a steep $785.15.


These bags might be expensive but they currently have some of the best charging and energy capacities.