Taking the risk to repeat ourselves, summer time is approaching as you might have recognized already.
And with it, lot of sunshine (we all hope). The best time of the year to think about using solar energy to help reducing global warming.
A very fashionable way to save our planet has been created by a new company that joined the Wearable Electronic arena.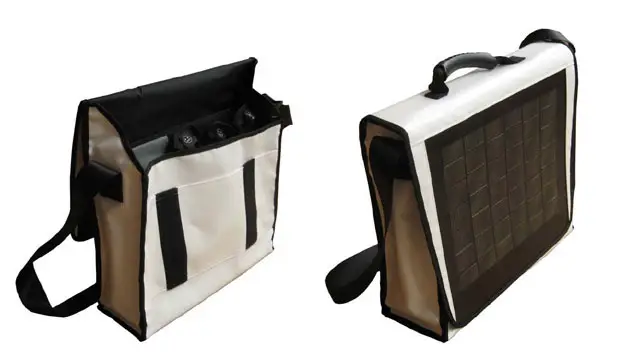 Sunload, a German company located in Berlin, has created a fabulous looking range of different bags that have flexible Solar panels integrated.
Not new you might say but hold on, Sunload's bags look gorgeous, not a bit nerdy but fashionable and stylish.
Some technical details: the Solar bags have an 'on-board' Li-ion battery that gives up to 14.4V and 4,500mAh (around 65Wh). This power-pack is equal to a Notebook battery! Plenty of juice to drive all your gadget you have with and around you when your are on the move.
To fully charge the internal power-pack via the solar panel takes around 21 hours assuming the bag (solar panel) is aligned in an optimal way with the sun rays. That might sound a bit though, but keep in mind, you are going to get a full load for your Notebook with that. Under 'normal' conditions, we would be happy to get some extra juice for our iPod or mobile phone while out on the road. To generate enough power for the iPod or mobile phone takes much less time in the sun.
Alternatively, you can charge the bag via mains or a car adaptor in just 5 hours to get you fixed for a day blogging out of the forrest.
Connecting portable devices to the bags is done via a USB plug. Any USB compatible device like the iPod, lots of mobile phones, digital cameras, PDAs, can be charged.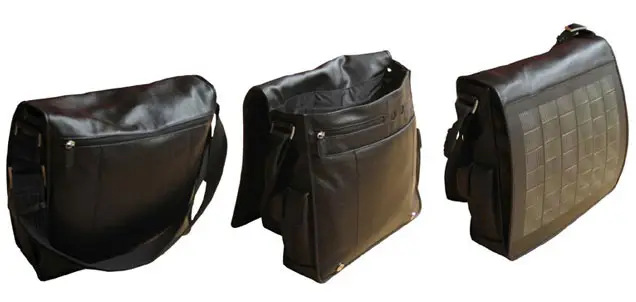 If you care about the environment, if you belong to the trendsetter and if you are the cool looking girl / guy = you better watch out and be the first to order one of this gorgeous bags when they hit the stores this summer.
We will inform you when and where you can get your hands on one of those bags. The SolarBag (small photo) will go for 402.52 Euro (535.- US$) and the Messenger-Bag (large photo) for 670.59 Euro (890.- US$).
Last word: Sunload's Website is in German but you can find a English product description in the Download section. Don't forget to check out on their Website the different styles and colors the SolarBags will be offered.