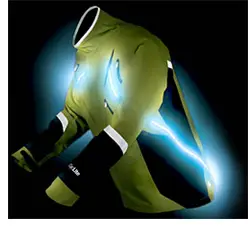 StrideLite has just taken reflective jackets to the next level with their Strobe-Light Jacket. The jacket is primarily used for lighted safety while running or walking in the dark.
This jacket not only has reflective strips, but also has bright, blinking strobe lights to ensure you will be noticed while biking, running or walking at night.
The StridLite jackets have designs for both men and women, and come in hardshell and softshell designs. The strobe light embedded jackets are completely water proof, very light-weight and run off of 2 "AAA" batteries that give power for over 300 hours.
Available in sizes S,M,L,XL,XXL and in Orange/Charcoal, Wasabi/Charcoal, and Charcoal colors. The men's hardshell and softshell starts at $190.- and $150.- respectively.
More info and online shop by Stridelite.