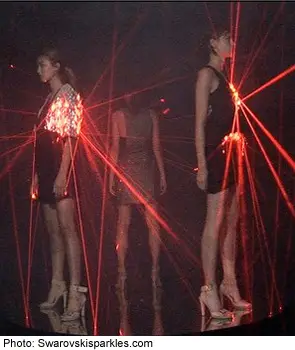 Hussein Chalayan surprised again during the Paris Fashion week the audience with 'Technology meets high Fashion' by showing a Sparkling Crystal Dress.
To underline his ability and willingness to challenge traditional aspects of fashion, Chalayan bended the rules a bit by deciding to show his collection in the from of a short movie rather then with models on the runway.
If you are interested to watch the complete show from Chalayan on video, showstudio.com has it for your viewing pleasure.
We are most interested in our coverage on the Sparkling Crystal Dress Chalayan presented at the end of his '08 S/S collection in which he used again technology to create a new fashion dimension.
The Crystal Dress (my naming) is an evolution based on Chalayan's Mechanical Dress and his LED Dress. It uses hundreds of servo motor driven tiny lasers diodes.
The laser diodes are integrated into the garments, illuminating the Swarovski crystals in the garments and extend so the dresses visually into space.
The effect is an explosion of laser beams and light effects the make the crystal look like living, flowing lava.
The technical wizard behind this Wearable Electronic high fashion piece is no one less than Moritz Waldemeyer who has worked with Chalayan before on the LED Dress.
The result of their cooperation is a stunning light/laser show radiated from the dress that changes continuously the light effects and reflections with the movement of the wearer of the dress.
Swarovskisparkles.tv has a video you must see to experience the magic effect of Chalayan's creation.
Another movie available on Swarovskisparkles.tv is the 'Making of' the Crystal Dress. Watch Chalayan and Waldemeyer how they created this fashion artwork.

A fabulous concept Magician Chalayan and Wizard Waldemeyer pulled out of their heads and proved once more that technology and fashion can create a new dimension to our future clothing with the Sparkling Crystal Dress.