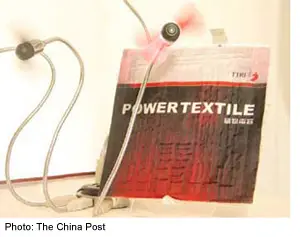 The Textile International Forum and Exhibition we posted about a few days ago introduced another revolutionary textile technology: the Solar Textile after showing us the Textile Oven.The Solar Power Textile is foldable and more suitable for integration into clothing than flexible solar panels used at the moment in solar bags.
Having the softness of textiles, the use of such Solar Textiles do not pose any wear limitation for clothing.
Mr. Lin Cheng-chu, vice-director of the Weaving Research Department at the Taiwan Textile Research Institute (TTRI) explained: "In the near future, bags or jackets made with solar textiles will provide electricity for PDAs, cellphones or digital media players."
Another revolutionary e-textile that comes out of the kitchen of TTRI is a foldable capacitor with similar properties in terms of integration into clothing as the solar textile. If this foldable capacitor becomes available on the market, it will have a big impact on Wearable Electronic products. Having a power storage that behaves almost like textile will transform clothing into power storing batteries.
I do not expect the storage capacity will run a laptop anytime soon but for small devices, especially bio-sensors for heart rate or similar functions might be within reach soon.
According to Mr. Lin, the solar textile technology will probably materialize in as early as one to two years.
Combine foldable solar textiles and foldable power storage textiles and we get a nice, self contained textile power house invisible integrated into our clothing to run all our gadgets forever.