Leah Buechley created in cooperation with Sparkfun the next generation of e-textile modules for the Wearable Electronic DIY enthusiasts: the LilyPad-Arduino set.
To introduce Leah Buechely might not be needed for our regular readers and everyone interested into Wearable Electronics just so much, Leah is a Ph.D. student in Computer Science at the University of Colorado and a member of the Craft Technology Group. Her research interests in electronic textiles, wearable computing and human computer interaction paved her way to create the now famous LED tank top.
Since then, Leah continuously developed further her tool kit for e-textiles which resulted in the latest and most sophisticated DIY kit for e-textiles I have ever seen before, the LilyPad.
The LilyPad is designed with large connecting pads, to create an interface between small electronic components and textiles, to be sewn into clothing. Various input, output, power, and sensor LilyPads are available.
Sparkfun started in 2002 from a group of students looking for affordable, high quality PCB making services for their projects. They couldn't find anything satisfactory in the market and decided to start their own online store for like minded people: designer, students, hobbyists and DYI enthusiasts.
Arduino is an open-source electronics prototyping platform based on flexible, easy-to-use hardware and software. It's intended for artists, designers, hobbyists, and anyone interested in creating interactive objects or environments. The Arduino boards can be assembled by hand or purchased pre-assembled; the software can be downloaded for free.
Ok – after this short but, as I think needed, introduction of all elements involved in the LilyPad-Arduino creation, we can have a look for what this e-textile kit can be used for or better, I refer you to Leah's high quality and easy to follow DIY instruction on her Website.
Leah's DIY demonstration model is a shirt, using different modules of the LilyPad-Arduino set, that has a RGB LED mounted on the front of the shirt, the power supply is mounted near the right hip and the accelerometer is sewn to the right wrist. The RGB LED changes color in response to the motion and tilt of the wrist.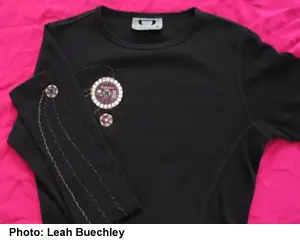 Leah is giving on her Website, as usual, very detailed instructions on what materials are need with links to at least one source where to get them. She has the software of the Accelerometer/LED shirt ready for download as well to get you up and running in no time.
What you need to start creating your own Wearable Electronic fashion item is at least the following modules: mainboard, power supply and the USB->serial board to download the software to the LilyPad mainboard from your computer. Those three modules cost together $ 55.85 The cost for a sensor is related to the function of the sensor with the top price of $ 24.95 for the Accelerometer and $ 7.95 for Tri-Color(RGB) LED, Buzzer or Light sensor.
As of the time of this writing (Oct. 10), most of the LilyPad components are sold out by Sparkfun
but there is the option of Auto Notify, so as soon as the LilyPad modules go online, I will get an email to rush over and order my set