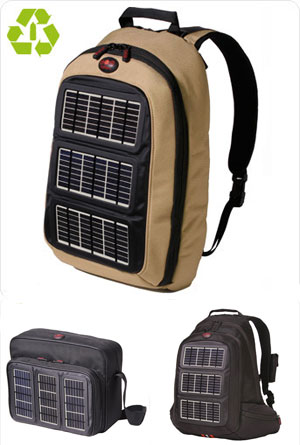 CES is in full swing now and there seems to be no way around not to talk write about what's happening there.
The reason to write about CES again is related to the hot Wearable Electronic item of 2007/2008: Solar bags.
CES is THE technology show, they don't get much bigger. Everyone who's anyone in the technology world from journalists, salesmen, engineers to armies of gadget enthusiasts and bloggers, everyone is there to see the latest technology unveiled by hundreds of exhibitors from around the world.
All those countless products need power. Yeah, there are batteries for the portable gadgets but as live goes, batteries tend to run out in just the wrong moment.
Having the option to top up the power a bit by using a Solar bag is very appealing. Voltaic Systems and Eclipse Solar are presenting their full program of Solar Bags to the CES audience.
The awareness of renewable energy is also a top priority for the CES organizers, the CEA (Consumer Electronics Association) which teamed up with the Carbonfund.org to offset 20,000 tons of carbon emissions by investing in renewable energy, reforestation and energy efficiency schemes.
75% of food containers and utensils used at CES will be biodegradable, and any spare food will be donated to charity. All of the leaflets handed to attendees will be printed on recycled paper with soy ink, and only non-hazardous cleaning products will be used at the venue during the event.
Voltaic Systems Solar Bags are perfectly in line with this spirit not only because of the integration of Solar panels in the bags but also by using fabric for the bags made from recycled soda bottles. Aside from its obvious benefit of using recycled materials, the new fabric requires less energy to produce, according a statement from Voltaic Systems.
Voltaic Systems bags come in a variety of designs with prices ranging from $ 199.- up to $ 249.-