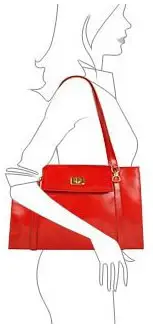 Italy is the center of style and excellent workmanship. Italian fashion is a class by itself.
The Leather Business Bag with interior lighting from Pratesi, a famous Florentine leather manufacturer since 1948, is no exception. In over 50 years, the company has been handed down from father to son for three generations, creating its own individual and unique style in the field of leather goods, perfectly combining beauty and functionality.
Made from the famous Brunelleschi Italian Leather, it will keep all your documents organized with elegance and style
This award winning ladies Business Bag combines functionality with elegance. Opening the bag with a turn lock reveals a stunning interior which, at night, is lit by an interior light.
On the front are two zippers that open to two business card/credit card holders. The interior has plenty of space for holding files as well, including an additional zippered pocket for especially important documents and other items. The bottom of the bag is protected by metal feet.
 The battery lasts around 12 hours and is replaceable. Pulling down the front leather handle reveals another compartment with pen and card holders in the front.
The Leather Business Bag measures 15 3/4 X 10 1/2 X 4 3/4 and comes in Cherry, Black or Coffee.
If you are out for a stylish, exquisite Business Handbag with a touch of sophistication, you can order one by Forzieri Italia for $ 435.00