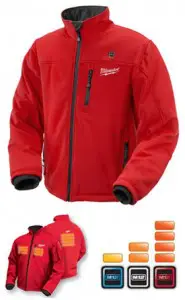 Milwaukee Electric Tool Corp has released their M12â"¢ Cordless Heated Jacket for all of us stuck in the frigid winter. Not only does this jacket warm you in the conventional sense, as it's a jacket, but it also users built-in heaters to get you extra toasty.
The M12 is a multi layered soft shell jacket that is water, wind and cold resistant. How does it work? With three integrated carbon heating zones. There are two up front and one in the back. Â The whole thing works on a portable charge.
The company is usually known for manufacturing power tools so this heated jacket comes as quite a surprise. Still, at only $119 without a battery or charger and about $189 with those included, it's quite a bargain. Keep this kind of stuff coming guys!