Sprayway is joining the growing Wearable Electronic market and has planned to launch 4 different models this year.
The first two iPod ready models are named: Lyric (see photo) and Opus iPod Jackets. The names of this Jackets are a bit of a clue to their nature – Lyric is the women's version, Opus is the men's version.
They're both neatly-cut, all-round waterproof, breathable, hooded shell jackets made from Sprayway's own Hydro-dry two-layer fabric in a range of subtle, urban-friendly colours and with a nice, herringbone face on the fabric.
In the left sleeve is an inegrated joystick control that's linked by an integrated and washable wire to an internal pocket which houses the iPod. The integrated joystick allows the control of volume and track choice. The earphones are routed through guides in the general direction of your ears.
The other two models are called: Icefall and Convect Radio Jackets. The women's Icefall and men's Convect shell jackets are designed to allow the easy use of two-way radios for mountain communication.
They're both 'full-on' mountain jackets using a new type of Gore-Tex called Pro-Shell which means they only weigh around 600 grammes complete with fully-adjustable wired hood, reinforced wear areas, double storm flap and four external pockets.
What makes them different is that they incorporate a special 'Push To Talk' module which sits just below the chin-guard of the jacket and houses both the PTT button and a microphone and speaker. The radio itself is housed out of harm's way in an internal pocket.
If you've ever climbed using a two-way radio, you'll know just how handy they are for communication on windy, mountain routes when the leader can disappear around a corner.
The iPod Jackets will be available in the shops in late summer 2007 for $350.- which makes them one of the cheapest iPod ready Shell Jackets on the market so far. The Radio Jackets will sell for around $300.- and launch later this year.
Some words to this type of iPod control: we do not like this 'joystick' control in the sleeve. We have seen this before on the H3 Fat Controller Glove from O'Neill and on the RedWire DLX Jean from Levi.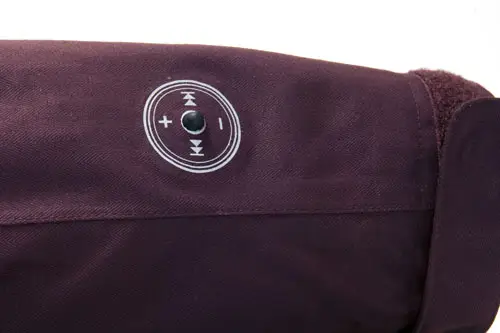 We have personally tested the RedWire Jean with this type of control and our conclusion is: not very useful, difficult to operate because it is very often the case that any other function than the one intended to activate will fire up. Such a small 'nipple' sticking out makes it very difficult to push in exactly the right direction. And we tested this without having gloves!
Although we appreciate very much that new companies like Sprayway come out with Wearable Electronic products, they still have to function well. This type of switch is the least one that works in an acceptable way and we hope that Sprayway as well as the others stay clear of these type of switches in their next version of jackets.
Come on people, there is plenty of space on our clothing to use for larger, nicer and more stylish designed buttons than this ugly little thing.