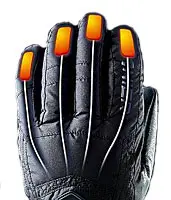 Keeping the fingers warm in freezing cold temperatures is one of the most expressed wishes by many folks out there in the cold.
Heated gloves or mittens would be great in this situation so we took a look around to see 'if' and 'what' is available. To our  surprise there is a whole industry emerging around heated clothing.Out of the many options of jackets, trousers and even shoe soles with battery powered heat sources, gloves and mittens seem to me the most practical.
The best high quality heated gloves or mittens we could find are the Zanier Heat-GX ski gloves and mittens. The gloves can be found on the cozywinters.com website.
Their heated gloves and mittens have adjustable, processor-controlled heating and advanced power cell technology which can be regulated with 3 different settings.
The power pack weighs only 4 ounces and are integrated into a pocket, covered by an elastic band. The temperature in the glove stays constant for hours. The glove's and mitten's soft inside lining have compartments with heating elements for each finger.
A charge overnight keep the fingers warm for up to 13 hours with the level one setting.
The heating units are water resistant and can absorb shocks without breaking. If the weather turns warm you can detach the power packs and use them as regular gloves or mittens.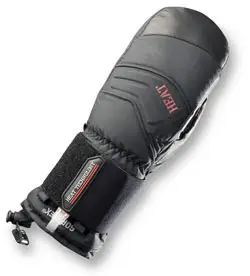 Level one gives 86ºF (30ºC), level two 98.6ºF (37ºC) and level three 131ºF (55ºC).
The offer includes 2 Power Packs with Impulse Control Technology. The charger which can be used in US at 110v and Europe at 230v charges both power packs at the same time.
Keeping your fingers warm is not cheap with a price tag of $ 507.