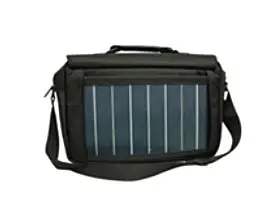 Gwiz, a online shop from South Africa offers a power station in computer bag form, the FlexoPower Flex Top. The solar panel of this bag operates between 4.2V – 24V by 80W. That is lot of juice for any cell phone, PDA, smart phone and even laptop.
The on-board Lithium Polymer battery will take 11.1V by 6000 mAh. That's roughly 10 full loads for a G5 iPod or a couple of hours for your laptop.
To load this power station will need lots of sunshine but this should not be a problem with the 300 sunny days South Africa has on average a year. For the reaming 65 days of the year, the Flex Top bag's battery can be charged via mains or car cigarette lighter to give you almost unlimited portable power.
The FlexoPower Flex Top bag costs around US$ 350.- Unfortunately Gwiz does not ship internationally. A big price tag but with so much power and sun shine in south Africa it might pay for itself over time.
Flexible Solar cells are a useful invention and the development in higher efficiency flexible solar cells is a top priority for many research institutes and private companies. Considering the large amount of Solar bags coming up this year, the integration of electricity generating solar panels to compliment the power hungry gadgets of our modern life might be a useful product concept with a bright future – in every aspect.