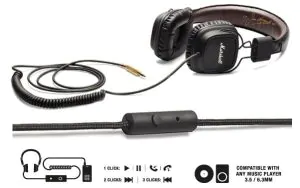 Headphones are great. Who doesn't love music? But headphones usually lack the ability to talk to your bud inbetween songs. Not anymore, if Marshall has their way. The company's updated line of their Major series of headphones features an in-line mic that lets you do your gab thing between cranking some major tuneage.
This is the same old Major headphone that turned heads last year, only this time it features a nicely done in-like microphone. This microphone also comes with an accompanying remote.
The whole shebang will set you back $119, which is about $20 more than the units used to cost. Just twenty bucks for an in-like microphone? Sign us up!