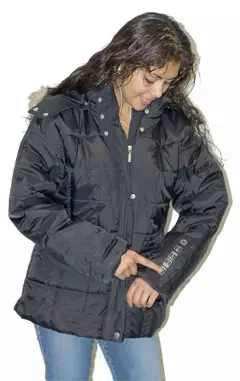 Kenpo, one of the early integrator of iPod control into jackets hasn't been on my radar for a while so I looked around and discovered a complete line of good looking jackets for men and a smaller selection for women.Kenpo seems to be very active in the iPod Fashion segment with their iPod ready jackets.
The bonded fleece jacket for men (see photo below) is for me the most visually appealing in their current 'Made for iPod' jacket line. The jacket is wind- and water-resistant and has an interior iPod pocket that protects the iPod and the boys from inclement weather.
The five button control system is woven into the outer sleeve and provides play, pause, volume, and track forward/backward control without having to open the jacket.
To ensure that accidental bumps will not send unintended signals to the iPod during playback, the sleeve control panel locks after seven seconds of inaction and can be reactivated by holding the forward button for three seconds. A smart way to make sure you don't keep on jumping tracks while in action.
The interior breast pocket has the 30-pin dock connector for the iPod and the earphones can be fed through the lining of the jacket collar, preventing the earphones from falling inside the jacket when removed from your ears.
Two exterior zippered pockets keep hands warm and allow ample room for small items. Compatible with all iPod and iPod mini models. Machine wash and dry when connectors are removed.
The white/black style (see photo on right side) is available directly by Kenpo for $ 99.99 and the same style complete in black by Hammacher for just $ 69.95
Quantities are limited so if you consider buying one, don't wait too long. Many of the other styles from Kenpo are sold out already.