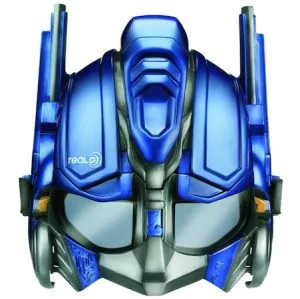 Not all 3d glasses are the same. That is an immutable truth of the universe. Well, some glasses may be better and more featured than Hasbro's new foray into the industry, but they weren't won't be as, um, Transform-ier. Hasbro's Cine-Mask 3D glasses are hellbent on "transforming" those boring old two dimensions into exciting three dimensions.
The glasses are an obvious cash grab for the upcoming Transformers threequel "Dark of the Moon." They are your standard cinema style 3D glasses, but each come shaped like the head of one of your favorite Transformers. They come as either Optimus Prime or Bumblebee and are affiliated with the RealD 3D technology.
They will be available a few weeks before the movie launches and will be available for just $10. Get these and forgo the popcorn. Your waist will thank you.