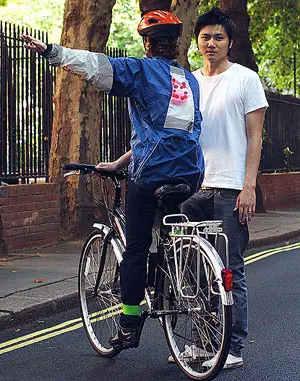 This cycling jacket with built-in light indicators is the coolest integration of technology into a jacket I have seen for a long time. It's not only cool, it is practical and can be life saving.
In many cities around the world, cyclists are second class users on the streets. No infrastructure that supports cyclists to enable them fair and saver use of our streets to reach their targets.
Michael Chen who studied design engineering at Middlesex University and lives in London, one of those cities difficult to go around on a bicycle, has worked out a solution that might greatly improve the safety of cyclists.
How it works:
An 'accelerometer' switches on a patch of LED that are woven into the jacket's back, green when the rider is moving forward or red when slowing down – hitting the break.
Turning around a corner is in indicated by flashing amber lights in the sleeves triggered by a 'tilt-switch' when the wearer raises an arm to give a hand signal.
A very clever concept that can save lives and reduce accidents of cyclists.
Check out the jacket in action in the video blow:
http://www.youtube.com/watch?v=BZvSdq6GYsY
Reactiv Cycling Jacket Road Test Demo – toholycow
Mr Chen is now looking for a manufacturer to produce this jacket and he hopes it can be on sale by Christmas, for about £100 ($200.-)