Belkin has joined the Wearable Electronic business with the iPod & MP3 Control Backpack. Not a mind blowing name but nevertheless, a very good looking backpack fully fitted and prepared for music – hassle free – on the go.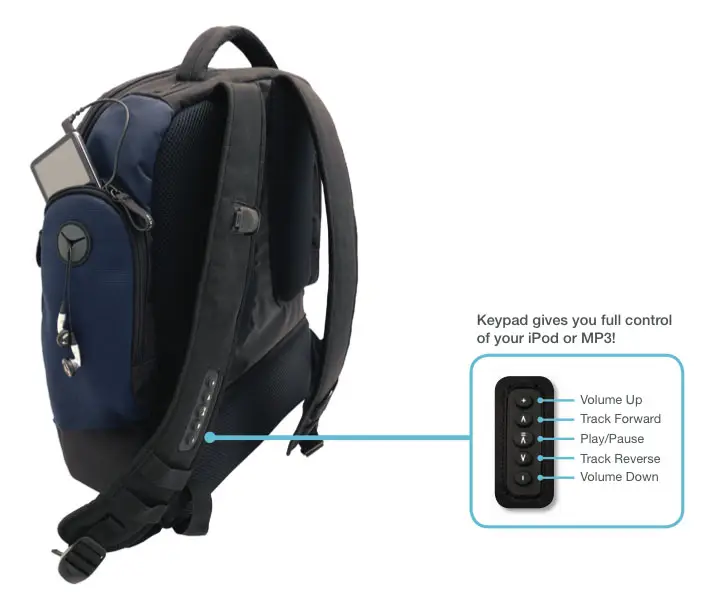 The iPod & MP3 Control Backpack packs all your electronic essentials and gives you maximum comfort as you travel or go to school/work. The iPod/MP3 player control is made of a durable but flexible keypad integrated into the the bag strap. This is very similar to the Nike C.O.R.E. Audio backpack was far as we can see on the product photo.
The iPod is connected via the dock connector and the 'standard' five function like volume up/down, previous/next song and on/off is available. For all other MP3 player, the 3.5mm headphone connector is used to hook the player up to the backpack but only the volume can be adjusted.
The Key features:
Control your iPod (all models with Dock connector) via the flexible keypad
Use the headphone socket on the bag strap for added convenience and cable management
Padded external shoulder and back support for comfortable wearability
Specially designed side pocket, and headphone outlet allow total access and comfortable use of your MP3 player
Includes a removable padded computer sleeve, which give additional protection to your laptop
Belkin is for sure enriching the ever growing range of iPod / MP3 player optimized Backpack landscape.
The Belkin Backpack is available by eyo.com for AUD 93.57 which makes it in US$ 76.23 at the time of this writing. Too bad that eyo is not shipping overseas at this moment and we haven't found any other online retailer either. That means a Australia only introduction and you better look for a friend in Australia to order one for you.
And we ask Belkin on behalf of our reader: please make your backpack available to the rest of the (Wearable Electronic) world.