Oakley Voltage Tote with Interior Illumination. Oakley usually comes to mind for having cool, stylish, sunglasses. Next comes to my mind the kind of Wearable Electronic MP3 and Bluetooth sunglasses.
What might not be known that widely is the range of good looking bags Oakley has in their program. Computer bags for example the block radiation, effectively preventing your Bluetooth gadget from being hijacked by cyber crocks.
One bag jumped into my view immediately, the Voltage Tote, a chic looking tote that features illumination of the interior to help you navigating through all your stuff in low light condition.
If you are tired of hunting for your cell phone or digging for your pen, the Voltage Tote has build-in light coming from two LEDs that shine a soft light on your valuables.
This comes especially handy around this time of the year where the sun goes down early and up late.
Oakley's Voltage Tote light feature gives enough light to show what you carry in your bag but you don't have to be afraid lighting up everything around you, the light will stay inside your tote.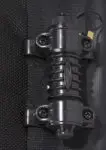 The on/off switch for the light is on the battery holder which is placed on the outside of the tote (see image on the left) let's you choose when you want / need the light.
Having the option to use or not to use the light will extend the battery lifetime of the single AA battery by not turning on the light every time you open the tote.
I love the battery holder which blends perfectly into the style of the Voltage Tote and shows the high quality and attention to details of Oakley's design.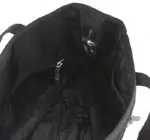 Some of the key features of the Voltage Tote:
Nylon and ballistic nylon material
Interior LED lights that can be flipped out for external illumination
Nylon webbing handles
Ballistic nylon bottom for added durability
Power pack with push-button control
Dimension: 13″ H x 11″ W x 5″ D (33cm x 27.9cm x 12.7cm)
Oakley is selling the Voltage Tote online for $ 80.- a fair price for this chic tote with the little bit extra, a bright and practical idea.