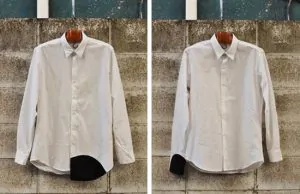 Lots of shirts encourage you to wear them, but how many encourage you to actually make them gross? That's the case with FIFT and their Wipe Shirt. The shirt that is used to clean all of your favorite gadgets.
The shirt uses a cleansing microfiber that is perfect for cleaning the screen of your iPhone, iPad or anything else with a glossy and easy to muck up screen. Incidentally, it also works for glasses. Incidentally again, it is also stylish in an understated way. If the aesthetic isn't your bag, not to worry, new styles are on the way.
The bad news? This useful frock will set you back about $150. That's a lot of dough when a pocketed rag does just about the same thing. Still, it is pretty cool.