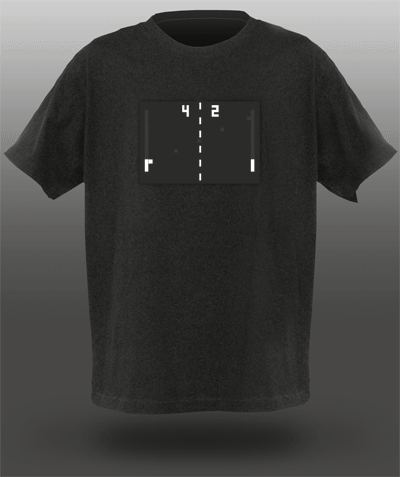 3G – geeky and great for the gaming enthusiast !
The Animated Pong T-Shirt has got to be the geekiest T-Shirt ever, what better way to show your love of retro gaming than displaying an animated game of pong on you chest.
It's a cool idea and we can imagine that on some occasions you might want to have such a T-Shirt.
The display is based on EL-technology that means low light conditions are favorable when you showing off your Pong Shirt.
Product Features:
Dark Gray 100% Cotton T-Shirt
Display is removable (attached with Velcro) for easy washing
Battery Pack is concealed in a small pocket sewn inside the T-Shirt
Runs for hours off two AAA Batteries
What would make this the absolute winner would be the possibility to interact, actually play a round of pong but this might be in the upgraded version 2.0 – just kidding.
You can buy the Pong T-Shirt for $ 24.99 by thinkgeek.com