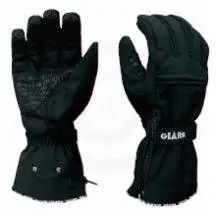 These womens heated gloves are part of the Gen X-2 personal heating system and can be used with the heated vest and arm chaps, or as a stand alone heating system.
The gloves are constructed with a breathable triple-layer fabric construction. Thinsulate  heating elements run down the length of each finger and across the back of the hand, these gloves will keep any lady's fingers warm. The gloves produce 20W of heat drawn from 1.8 AMPS of power. The cuffs are wide and gauntlet style to help keep snow and cold from hitting your wrists. A chinch strap lets you tighten the opening still farther to ensure a good snug fit. Anti-slip gel pads in the palms let you grip a ski-pole or a handrail with equal ease.
These gloves cost around $85 and can be found on Amazon.