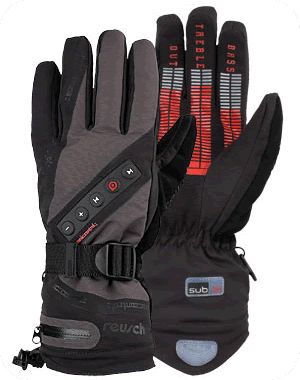 You might not be very familiar with Reusch which entered the sports market for the first time in 1972 with a collection of specially designed winter gloves.Shortly after, Reusch developed in co-operation with German goalkeeper legend, Sepp Maier, the world's first goalie's glove featuring a latex palm.
Fast forward to 2006, Reusch has launched the 'Sonic Control' iPod enabled glove for sale in Fall/Winter 06/07.
The glove uses Fibretronic's wireless rubberized keypad system integrated into the back of the hand along with an RF wireless transmitter located in specially designed waterproof pocket on the cuff of the glove.
Using an RF Receiver connected to the iPod, the commands from the keypad can be sent to the iPod remotely up to a distance of 18 metres without the necessity to be in 'line of sight' of the iPod.
This means that the iPod can be stored safely in a jacket or bag pocket while the glove is used for remote control activation.
The 'Sonic Control Glove' is compatible with all the latest iPod models and available in a range of sizes for $ 220.- via the online store of Reusch.