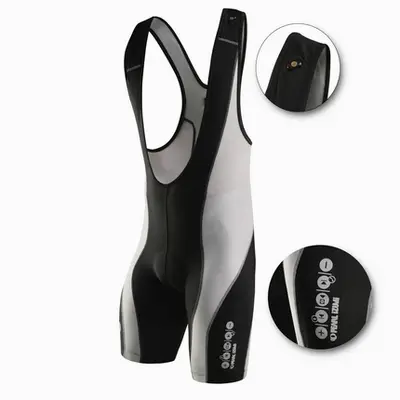 A new addition to the Wearable Electronic product portfolio: the Vertex MP3 Bib Cycling Short.
The new member in our Wearable Electronic family is Pearl Izumi, a company very well known in the cycling community for it's excellent quality and craftsmanship. Pearl Izumi USA, Inc. has evolved from being a small garment producer in Japan some 50 years ago into the world's leader in technical-performance and quality manufacturing company for cycling sports apparel and footwear.
The Vertex MP3 Bib Short features an integrated MP3 Player and a mobile phone link via Bluetooth. The mobile phone link works like in many other similar products: if you receive a call, the music is stoppes during your conversation and comes back after you end the call.
The controls are integrated onto the quad region of your leg, easy to reach while cycling.
Your mobile phone can be conveniently be stored in a dedicated pocket in the shoulder strap of the short and connects to the integrated (into the shoulder strap as well) microphone for the hands free mobile phone use.
The MP3 player provides storage of 512 MByte which lets you load around 16 hours of music and is fully integrated into the short. No need to take it out during cleaning and washing of the short. The Li-Ion Polymer battery will last for 8 hours of playback but will be less with Bluetooth activated.
Other features of the Vertex:
MicroSensor(r) fabric with MicroSensor(r) mesh bib upper
Direct-Vent rear panel provides ventilation under jersey pockets
3D Pro Stretch Chamois(r) with 10mm contoured pad protection
Comfortable Pearl Izumi spandex leg grippers
91/4-inch inseam
We couldn't find out the source for the integrated (we assume) textile switches although they look very much like Eleksen's ElekTex panel.
The Vertex MP3 Bib Short is a very good looking and useful cycling gear which can help to stay focused (on the road) while managing the workout music and your all important phone calls.
A great product all in all but one downside needs to be mentioned: the integrated MP3 player means that whatever MP3 player you are using right now will not work with it. You need to download and manage another music library for the Vertex. Storage capacity is OK, you can cycle a long way before you start repeating the songs on the integrated MP3 player.
The Vertex MP3 Bib Short is available for $ 499.99 direct by pearlizumi's online store.