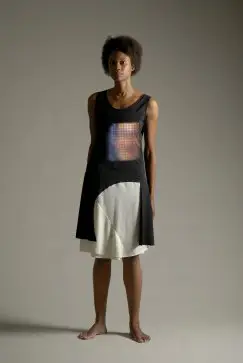 It's the destiny and the mission of this website to bring Wearable Electronics closer to the consumer but also to give an insight to the designers as well as to the clothing and electronic industry to achieve our mission.
A Feb. 16 article in the online edition of The Orange County Register, a daily newspaper published in Santa Ana, California, has taken up the topic of Wearable Electronic in a very comprehensive way.
The article starts with Anton Guerrero, 23, a rapper who's performed at the famous Ruby Skye in San Francisco. Every day before heading out the door, he tucks his iPod nano and cell phone into his pant pockets.
Guerrero says "I feel naked" without these gadgets. Seven hours a day, he listens to his own music, reggae and rock. And he isn't alone in his obsession. Millions of teens and 20-somethings feel the same way. And their mindset is revolutionizing the way clothing is designed.
The article goes on in stating that 'no fewer than nine action sports brands in Orange County are selling or working on apparel and accessories embedded with electronics.'
"Our consumers want the latest technology in clothes," says Marty Samuels, president of Quiksilver Americas. "They're not just nerds."
Yet compared to its long-term potential, electronic clothing still "is in its infancy," says Bruce Moore, innovations manager at Hurley International. "It hasn't quite found its home yet. But it will."
Today, a few dozen companies marry fashion with technology, said Doherty, research director for Envisioneering, a personal tech trend tracker in New York. Burton, the snow brand, even created a job title called project manager for wearable electronics.
Expect more businesses to jump on the bandwagon. Hurley of Costa Mesa and its parent company Nike are exploring wired technology in surf, skate and snow clothing.
But there are also challenges mentioned in this article:
It's expensive!
"You've got to be kidding me. Six hundred dollars is my rent," says Guerrero, who pays $650 a month for a room in an Irvine house.
He's flabbergasted by the $600 price tag for a Burton Bluetooth jacket. For that much moola, he gets to wirelessly chat and listen to music via a control panel on the sleeve. The exact jacket minus the technology sells for $260.
Even if he could scrounge up that much dough, he says he can only listen to music when he's wearing that jacket. The problem with that is he doesn't dress in the same outfit every day.
Guerrero suggests a solution. It'd be great if he could peel off the technology portion of the jacket he wore yesterday and slap it on the jeans he slides on today.
Designers – list up to this advice!
Because technology changes so quickly, keeping up poses a challenge, said Mark Frier, who holds the very apt job title, Project Manager for Wearable Electronics, for Burton.
Since Burton typically works on its clothing 18 months before they hit stores, it must make sure it designs products that are compatible with future consumer electronics. That's why Burton teamed up with tech expert Motorola.
Manufacturers – team up! Cooperate and co-create!
The article has a list of some 'player' in the Wearable Electronic market and a overview with what they are 'playing'.
A very interesting article that we highly recommend you to read in the complete article. Please follow the link below.
[via:
ocregister.com
]