The 'smart Textile Village', which is part of the CeBIT, had one more introduction of a new company and technology around Wearable Electronic.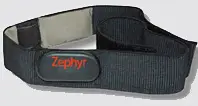 A new fabric designed by New Zealand firm Zephyr offers information on heart beat, skin temperature, posture, activity and breathing rate with the Bio-harness, a ribbon of fabric worn around the chest.
Zephyr was founded in 2003 and a relatively new player in the rapidly growing Smart Fabrics industry. Combining their patented Smart Fabric sensor technology with novel algorithms and system design, Zephyr created a unique technology for physiological and biomechanical monitoring for field-based products like sports and wellness, medical and defense.
Next to the Bio-harness, Zephyr has created the Shoe-pod (a smart insole) made of the same textile as used for the Bio-harness that has the sensors woven into it. Once paired with electronics to store and broadcast data, this fabric can record physiological information.
"The smart insole, or Shoe-pod, could find a role as a training aid for runners", said Steven Small, director of business development for Zephyr.
The shoe pod measures the size of a person's step, the points of maximum pressure, and where they push off from and the rhythm of their foot movement.
Sounds to us like a competitor to the Nike+ Speed pod.
"The next step is to connect our system to a mobile phone. Then you have an automatic connection to the Internet. By the time you come home you can log on and see how you did," said Small.
"The Bio-harness is being used by some of the keen runners among Zephyr staff. It has created quite a competition because they can go to the website and measure their progress against everyone else," he added.
Zephyr's concept looks to us similar to the one Textronics is offering but seems to have more functionality and is more of an integrated solution.
We will closely monitor Zephyr and hope they can get one of the sport apparel / shoe companies on board for some serious workout gear.