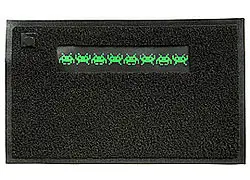 Pushing the integration of Electronic further into fibre and fabric based applications, La Tête Au Cube designed the Back Off door mat with display.
Unlike the Music Textile, the 'Space Invader Doormat' is a real product that can be ordered and end up in front of your door.
We think the design idea was to keep unwanted visitors away from your door but with this doormat you will most likely attract a lot more visitor.
The Back Off door mat runs on 2 AA batteries and uses flat panel LEDs to bring on the action just like we know it from Space Invaders…
The mat is made out of rubberized plastic, so it's industrial grade and it will clean your visitors shoes well. For those who think that size matters, it is 63×40 cm or 24″x16″ depending on where you are…
We give it a high note on originality of the idea, the practicality might not be that obvious but then, do we not all love sometimes also not-so-practical stuff?
This 'out of this world' doormat can be ordered online for $ 110.- and ships worldwide.