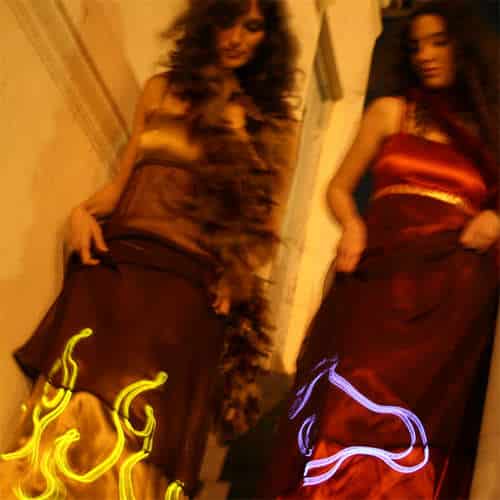 We have seen the LED-Dress from Hussein Cahalayan but the $ 16.000,- might be a bit too much for some of us.
Do not fret, I can show you a way to have a similar 'head turning' outfit for your next summer-night party for just $ 70-80 with a bit of DIY and the fabulous instruction from Laura Cesari posted on the Craftzine Blog.
Laura, an artist and designer, demonstrated the creation of the Fire Skirt during the Maker Fair last May and made her instruction now available on Instructables.com
The dress is based on an A-line skirt pattern; a cone-shaped skirt that bunches with gravity and creates organic-looking folds. It has 2 layers: a shiny satin layer underneath, and a translucent chiffon layer on top.
The shiny satin layer is adorned with decorative flames shaped in electroluminescent wire: a battery-powered, plastic-coated wire that emits light for a glow-in-the-dark effect. The light intensity of EL technology is not very high, the best use is in low light = nightly settings.
The pattern and materials work together to soften the hard lines of the EL wire and to create a fiery animated effect when the dress is "walked": the gold satin reflects the electro-luminescence, and the contrasting maroon chiffon overlay creates a range of light intensity as it floats closer and further away from the satin and EL. With 3AA batteries, the fire will burn for about 6 hours.
Next to the very detailed instruction on the Craftzine Blog, Laura gives a complete list of materials needed (total about $ 70-80) and sources where to get this materials (especially the technical stuff like EL-wire and power supply).
To make it very easy to follow, a total of 9 videos are part of the DIY instruction in which you can follow Laura through the whole skirt creation process.
This is the first of the 9 videos:
artfuture :: Laura Cesari – Fire Skirt Demo – Part 1 of 9 – artfuture
If you are in a hurry to get your own Fire Skirt, Laura is selling one on Etsy.com for $ 1,450.- At the time of this writing, it was still up for sale, so hurry over and order or …. DIY. Shouldn't be too difficult with her fabulous instruction.