Waterproof Rechargeable Heated Gloves from Venture Heated Clothing will keep your hands toasty in the coldest winter conditions. These battery-operated gloves will stay warm for 4 to 8 hours on a single charge.
Unlike most other heated gloves, this model is rechargeable, now you can stop lugging around extra batteries. These bad boys are waterproof and rechargeable, and contain 3M Thinsulate which will keep your fingers toasty warm even on the coldest of days. Recharging the battery pack takes about 3 hours and the gloves will stay warm from 4 to 8 hours, so you can enjoy an afternoon outdoors or the majority of a work day out in the cold. Four temperature settings let you adjust the heat to your needs.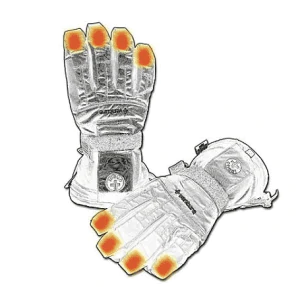 With a price of $179 you will pay a premium if you want the convenience of rechargeable heated gloves.
Buy on Amazon