Intelligent clothing is not only a cool 'must have' for our fashion outfit but has added value in professional clothing as well. The most innovative use of Smart Textiles is a Firefighter jacket = 'Turnout Gear' in professional speak, with integrated Thermal Sensor Technology (TST) directly into the fabric.This innovative Turnout Gear is made by VIKING, originated in Denmark and a global market leader in maritime and fire safety equipment. Their Turnout Gear is used by professional fire-fighters across the globe.
How does it work?
The difference between pain and second degree burn is a mere 54ºF (12ºC) increase in skin temperature.
Integrating thermal sensor technology directly to the fabric layers gives the advantage to visually indicate critical heat levels to the firefighter in action and his colleagues before it's too late.
The thermal sensors are integrated into the inner and outer layers of the coat to monitor the outer temperature near the fire-fighter and on the inside of the coat close to the body. The sensors are attached to two LED displays, on the sleeve and one on the back.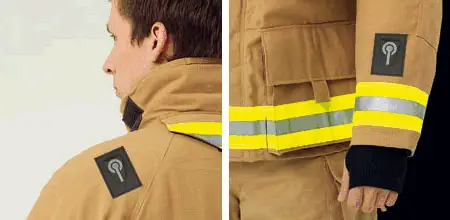 The LED display on the upper left shoulder is visible to other fire-fighters on the team and indicates potentially critical situations. The LED display on the lower sleeve indicates dangerous heat levels both inside and outside the turnout gear.
A small box in the inner liner of the coat contains a battery and a control chip that calculates the temperature and activates the LED displays. The sensors are covered in flexible waterproof plastic to protect against fluids.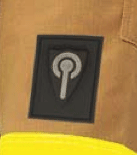 When the outer temperature reaches about 482ºF (250ºC) the outer circle on the display begins to flash slowly. At 662ºF (350ºC) the display light flashes rapidly. When the temperature inside the garment reaches about 122ºF (50ºC) the long line on the display begins to flash slowly and at 156ºF (67ºC) the display light flashes rapidly because when the inside of the coat near the skin reaches 174ºF (79ºC) the situation is critical.
All components meet current standards for use on NFPA fire-fighting equipment. The microelectronics is durable and can withstand at least 25 wash cycles.
The only thing needed before cleaning is to remove the battery from a pocket in the liner. No maintenance is required – only the battery needs to be changed.
This Turnout Gear from Viking is a excellent example that demonstrates the potential and the high value Smart Textiles made into Intelligent Clothing have.