Today a tip for all the Designer, Engineers and Creator of Wearable Electronic products among our readers.
Novonic, a company based in Germany, offers conductive yearns that can be used for data transfer, power transfer as well as for textile based heating elements.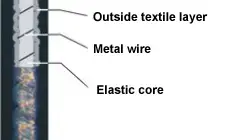 The flexible core ensures sufficient mechanical stability combined with high flexibility.
The spiral-shaped twist of the wire ensures the stretch resitance of the electrical conductor.
The outer textile twist protects the yarn against overstretching and abrasion.
These conductive yarns can be further processed with the usual textile-technical methods.
As indicated on their Website, Novonic offers a i-wear solution, a textile interface between electronics and textiles with complete integration of sensors and communication in textiles, washable conductive textile connections for the transmission of energy and data support up to the supply of complete systems including electrical and electronical components.
If you are working on the next generation of Smart Textiles, you might want to contact Novonic for your specific needs.