To wrap up Avantex, at least for today, some additional photos of design concepts waiting to be produced:
The left photo shows design concepts from Cetemmsa, a Spanish company offering the service of creating the Wearable Electronic part to fashion designer. A interesting concept we will pick up in the coming days and look in more details into that.
The photo in the center shows the newest version of Hohensteiner Institute's Solartex Solar clothing and the right photo shows a more complex = multi button elastic remote control panel from Interactive Wear in a backpack.
A very significant observation is the introduction of Eleksen's range of modules than can be bought from the consumer after the purchase of an e-Textile product like a Jacket for example. The Jacket has Eleksens textile keypad integrated. The desired function a consumer likes to have for his/her Jacket can be purchased separately thanks to the standardized modular system for the different functions like iPod or cell phone or Bluetooth, or FM radio, … This concept allows to change easily the functionality of the Jacket by connecting any other of Eleksens modules.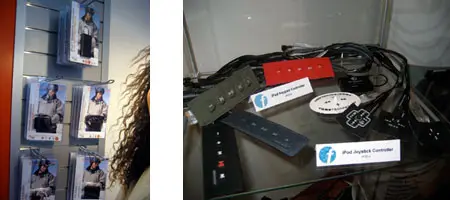 The left photos shows the 'ready-for-sale' modules. We will look in more details to Eleksen's new modules in a separate article.
The right photo shows a part of the huge range of different keypads ready for integration into garments or accessories from Fibretronic. This pre-fabricated modules allow garment manufacturers easy and simple integration of the Wearable Electronic part into clothing. A complete overview will follow in the coming days.
As mentioned on the begin, many highly interesting seminars and presentation have been running in parallel to the trade show. Wearable Electronic top experts like Suzanne Lee, Angel Chang and Clive van Heerden from Philips Design, Ryan Genz and Francesca Rosella from CuteCircuit and research institutes like University of Manchester, University of Pisa, Frauenhofer IZM. The list is too long to name all and everyone in this place.
The air was vibrant, filled with talks of the latest and hottest developments in Wearable Electronic.
We have do work now through a big pile of information material to filter out the most interesting stories to post here on our blog. Come back soon and check out what is coming in Wearable Electronic.