The products introduced so far fall mostly in the category of 'functional' clothing and accessories like outdoor jackets and bags.
Today, we have a look to the Fashion clothing and check out what is happening in this area.
The most outstanding and active personality in the world of fashion design at this moment is Angel Chang.

Angel Chang presented her first collection with a technological twist at the Arts Corporation Studio in New York in September 2006.
Unlike most designers who primarily draw inspiration from fashion's past, Chang's innovative looks, like a light-emitting raincoat, a heat-sensitive dress and a iPod integrating Jumpsuit are refreshing steps forward towards fashion's future.
For us very interesting is the jumpsuit model with built-in iPod control and pocket. The sporty ensemble and soft silhouette looks comfortable enough to wear to the tennis courts and possesses just the right amount of casual chic to take to the streets.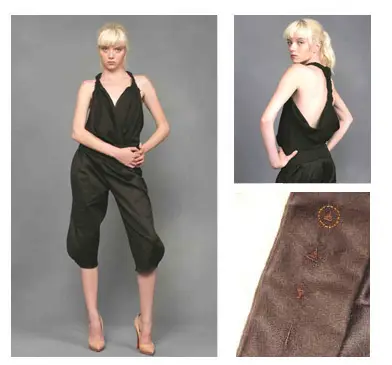 The iPod's control is hidden in the waistband with hand-embroidered PLAY / BACKWARD / FORWARD and Volume settings buttons.
Some extracts of Angel Chang's Vision:
There are enough clothes in the world; we do not need another mainstream fashion designer.
What we need are experiments and those who are willing to experiment. We designers are too safe today — relying on the trends of the past rather than innovating for the future.
I think of all the ways my generation of women are different from the previous generations; we're working more, traveling more, dependent on our cell phones, hooked on the Internet, and obsessively checking our e-mail. In short, we are more mobile and heavily depend on technology for all the things we do in our daily lives. But while our roles and lifestyles have changed drastically over the last 40 years, the structure of our clothing, oddly, has not.
My aim is to show that clothes can actually do something – beyond just looking good; they ought to facilitate and improve the way we live. Whether they're waterproof cottons or iPods stitched in our clothes, each piece displayed is a solution to a problem I've encountered when wearing clothes in the city.

Read more about Angel's Chang's vision and work on Angel's website. Don't miss to watch her video, it shows her models in motion.
With fashion designer like her, the future of Wearable Electronics looks very bright and colorful.