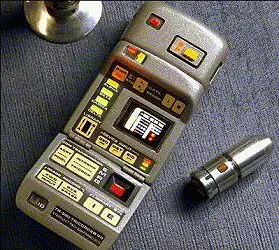 We all love Star Trek. Until a holodeck becomes reality, the tricorder is our next best bet to make some cool real-world Trek technology. Well, according to a new study by electrical engineers at Oregon State University, we may be closer than ever before. This is all thanks to ultrawideband technology.
In a research paper entitled "Experimental Characterization of a UWB Channel for Body Area Networks," which was recently published in the EURASIP Journal on Wireless Communications and Networking,researchers concluded that this ultrawideband technology can be used at very low energy levels and can support the transmission of vast amounts of health data in real time. This, of course, sounds exactly like a tricorder.
Patrick Chiang, assistant professor in the OSU School of Electrical Engineering and Computer Science and co-author of the report, said in a statement that improvements in wireless body-area networks using small sensors could lead to significantly advances in the way healthcare is monitored.
"This type of sensing would scale a monitor down to something about the size of a bandage that you could wear around with you. The sensor might provide and transmit data on some important things, like heart health, bone density, blood pressure, or insulin status," Chiang said. "Ideally, you could not only monitor health issues but also help prevent problems before they happen. Maybe detect arrhythmias, for instance, and anticipate heart attacks. And it needs to be non-invasive, cheap, and able to provide huge amounts of data."